With a vision of creating a premier leisure destination and regional boating hub of Southern China, Nansha Marina has always aspired to actively promote sailing culture and marine lifestyle to the public at large.
Managed by Nansha Marina, Nansha Sailing Academy (or Nansha Nautical Training Center) is currently the only training centre in Guangzhou officially approved by the Chinese Maritime Safety Authority (MSA) to conduct pleasure Yacht Driving License course (Coastal Waterways, 1st class).
After completion of a 11- day theoretical and practical courses and passing the final exams, the trainee will receive China MSA's nationwide recognized powerboat driving license.
Pre-requisite: min 18 years old, up to physical examination requirements
Training arrangements: theoretical and practical training, 2-day exam, total 13 days.
Examination: examination content is divided into two parts: theory and practice, conducted by Guangzhou Maritime Safety Administration official.
Training fees
| Type of License | Member's Rate (RMB) | Guest's Rate (RMB) |
| --- | --- | --- |
| Coastal first class | 16800 | 18800 |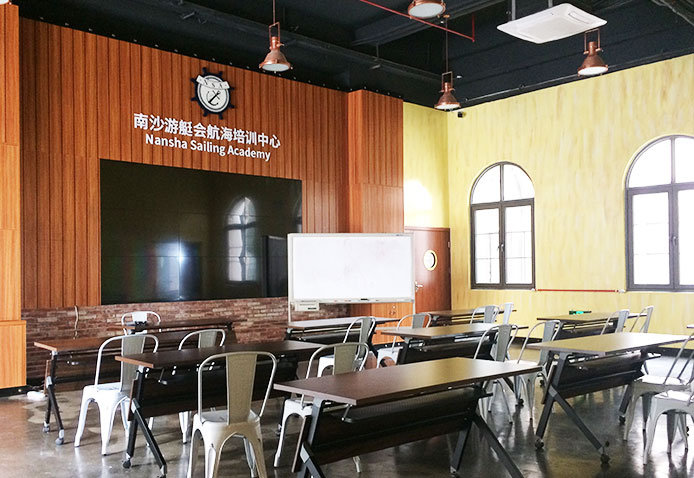 Training start plan for the first half of 2023
Month
Training period
Position
License Type
Max Trainees
Batch Number
Deadline for registration
Theory Exam
Assessment
Exam Points
Exam Time
Exam room
Exam Time
Exam room
January
Jan 4-15
(Jan 13--day off)
Yacht Operator
Coastal 1st Class
20
2301
Jan 1
12:00
Jan 16
Guangzhou Maritime Safety Administration
Huangpu Test Center
Jan 17
Nansha Marina
Guangzhou Maritime Safety Administration
February
Feb 11-22
(Feb 20--day off)
Yacht Operator
Coastal 1st Class
20
2302
Feb 8
12:00
Feb 23
Guangzhou Maritime Safety Administration
Huangpu Test Center
Feb 24
Nansha Marina
Guangzhou Maritime Safety Administration
March
March 4-15
(March 13--day off)
Yacht Operator
Coastal 1st Class
20
2303
March 1
12:00
March 16
Guangzhou Maritime Safety Administration
Huangpu Test Center
March 17
Nansha Marina
Guangzhou Maritime Safety Administration
April

April 8-9,14-16
21-26
Yacht Operator
Coastal 1st Class
20
2304
April 5
12:00
April 12
Guangzhou Maritime Safety Administration
Huangpu Test Center
April 28
Nansha Marina
Guangzhou Maritime Safety Administration
April

April 15-26
(April 24--day off)
April 12
12:00
May
May 6-17
(May 15--day off)
Yacht Operator
Coastal 1st Class
20
2305
May 3
12:00
May 18
Guangzhou Maritime Safety Administration
Huangpu Test Center
May 19
Nansha Marina
Guangzhou Maritime Safety Administration
June
June 2-13
(June 9--day off)
Yacht Operator
Coastal 1st Class
20
2306
May 30
12:00
June 14
Guangzhou Maritime Safety Administration
Huangpu Test Center
June 15
Nansha Marina
Guangzhou Maritime Safety Administration
Registration:
Phone registration:Call the registration hotline 020-39078888
On-site registration:Come to Nansha Marina to complete the registration procedure.
Address:No. 5 South Gangqian Road, Nansha District, Guangzhou